Official Album Release
04/18/2014
This year, Good Friday is actually going to live up to it's name. Nine Gates' demo album will be available for purchase on CD, as well as online, on Friday, April 18th. There are limited quantities of the CD available. Be sure to grab one before they're gone. Contact us to secure your copy.
With our demo album recorded and the band back up to "gig ready" status, we were pumped and ready to take the stage to compete in The Wolf's Queen City Rocks battle of the bands competition. The day of our performance run off, we learned the bitter-sweet (but mostly sweet) news that our guitar player (Mike Watt) and his wife were in the hospital awaiting the birth of their first born! After quick assessment, the call was made to drop out of the competition as we all agreed we did not want to disservice our fans and The Wolf by limping through our performance shorthanded. Mike's baby was born at 8:03 pm, literally only a matter of minutes before we were slated to take the stage. So unless one of the other bands in the competition suffers the same fate as us, we will have to wait till next year to compete. Nine Gates will be on the scene though! Stay tuned for information on upcoming shows, and thanks again for the continued support!
Only a few days after our songs made the airwaves for the first time, we hit a little closer to home by landing a spot on the 'Homegrown' section of The Wolf's top 20 countdown. This is a pretty big step for the band. Making it onto a mainstream radio station like The Wolf will hopefully create many more opportunities to get our music out there!
Nine Gates hits the airwaves!
As of January 15, 2014, Nine Gates has achieved one our greatest successes thus far. At approximately 10:00PM (Cental), our songs were played on internet radio station Broken Neck Radio, making it the first time our songs would be played on any type or radio station.
The songs have actually made it into rotation and are played more regularly than we could have anticipated. They are also available to be
requested
on the station.
Thank you to everyone involved in making this happen, and to our fans for the continued support.
Nine Gates has music available for purchase and streaming! Check out the links to download your copy today!
Today is Good Friday. This is important because Good Friday 2 years ago marked the release date of our 3 song demo album. As you may have noticed, there has not been much activity on this site for over a year now. I assure you, however, we are not dead. Stay tuned for details on what we've been up to and what we're excited to reveal!
"...You want a resurrection, but you don't have a clue..."
Nine Gates And Mike Watt Part Ways
Here is a message from Mike. We would like to offer our gratitude, love, and respect to Mike for being a brother and for everything he has contributed to Nine Gates.
"It is with great sadness that I announce my departure from Nine Gates. This decision was a very difficult one for both myself and my brothers in Nine Gates. I've loved every minute of my time in this band. I've co-written some amazing tunes, played some wicked shows, and met a lot of cool people. I wanna thank Tim, Chad, Kenny, and Bevan! I couldn't have asked for better guys to play in a band with. I wish you all the best carrying forward.
Keep it Metal \m/
Mike Watt"
Battle Hard North American Tour
Nine Gates is pumped to be able share the stage again with Lest We Fail to help support Crimson Shadows as they hit the road in North America on their Battle Hard Tour. Come on out on Saturday, July 11th to watch three deadly bands take the stage at The Exchange!!
Nine Gates Set To Kick Off Burning Ice Metal Fest
What better way to warm up from the cold weather than to take in a kick ass metal show?? Nine Gates is pumped to be sharing the stage with Lest We Fail, Wrathed, Hell Hounds, and Lavagoat!! Come see us in what will most likely be our last show of the year!
Once again, T-shirts, CD's, and Download Cards will be available as well.
Click on the event link for more details and to RSVP!
https://www.facebook.com/events/706933342718430/
This WILL be a good show! See you there!
Prepared for an increased dose of Nine Gates live?
Want more Nine Gates? For the second time this summer, we will be making our presence known as we join a deadly group of bands eager to tear up the stage on Friday, August 22. Still not enough? How about 45 minutes of mind melting metal to serenade you with? We are stoked to be able to play more of our material for you, including a new song that was heard for the first time at our last show. Nine Gates as a whole, and as individuals, truly appreciate the support you give us by showing up and cheering us on. T-shirts, CD's, and Download Cards will be available as well.
Click on the event link for more details and to RSVP!
https://www.facebook.com/events/812967225456268/?ref_newsfeed_story_type=regular
We really hope to see you there!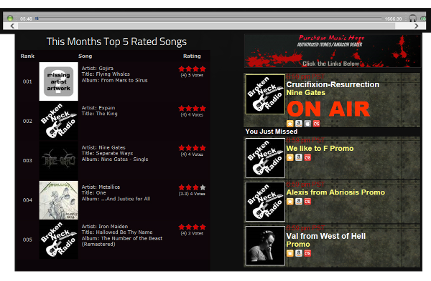 If there is one show that you don't want to miss this summer, it's this one! Nine Gates is both pumped and honored to have the opportunity to warm up the crowd for the ANCIIENTS stop in Regina on their Canadian tour. We are eager to get back on stage for the first time in over a year and since the release of our demo album, which is available for download on our home page via cd baby (as well as on iTunes and other download sites). If you haven't seen us play yet, we implore you to come check us out! If you have seen us play, we are hoping to debut some new material, so you don't want to miss that! Nine Gates appreciates all the support we have received and we promise not to disappoint! RSVP on Facebook at https://www.facebook.com/events/233276103530687/. Cd's and download cards will be available at the show. Get your tickets online at https://www.ticketedge.ca/index.php?page=EventDetail&id=2325 and in store at Vintage Vinyl and Madame Yes. Then get your asses down to The Exchange for this kick ass show!
See you there!!